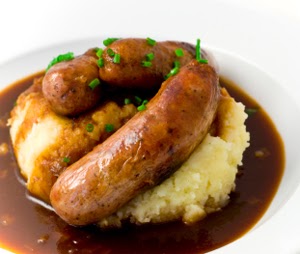 Easy to make and a family favorite, these Irish bangers are sure to please.
Have you been craving something hearty and uncomplicated for dinner? You can recreate this pub staple at home with bangers and mash, a popular Irish and British dish. This recipe for Irish bangers is a stick-to-your-ribs comfort food that takes no time at all to prepare.
This recipe calls for Irish pork sausages, which are the most popular sausages in Ireland. A little herbal, a little peppery, it's delicious. There are a few sources in the States where you can find it or you can try making it yourself. Great quality pork sausage (see below).
While all the ingredients are essential, the secret to the authentic best-tasting bangers and mash is Real Irish Style Pork Sausage and the homemade gravy. In my opinion, a classic onion gravy is your best option.
How to Make Bangers & Mash in four easy steps – 30 min.
Ingredients
6 Winston Irish Style Pork Sausage
For the Gravy:
1 yellow onion, thinly sliced
Sausage drippings
1 tablespoon of flour
1 cup ham or beef stock
Salt and pepper, to taste
For the Mashed Potatoes:
2 large potatoes, quartered
¼ cup milk, plus more if needed
3 to 5 tablespoons of butter
Salt and pepper, to taste
Step 1: Set Up the Sausages
The oven should be preheated to 360 degrees. Put your potatoes into a large pot and boil them for about 20 to 25 minutes. As the sausages cook, add some color to them by browning them over medium-high heat, 3 to 5 minutes. Put them on a baking sheet and bake them for 20 minutes after they are removed from the heat.
Step 2: Make Your Gravy
In the sausage drippings, fry onions until soft with salt and pepper. In a bowl, dust with flour, then add the stock slowly. Make sure the liquid simmers, reduces, and thickens.
Tip: For a fancy touch, add some fresh herbs before the stock is poured. A good combination of rosemary and thyme is always a winner. Bisto Original Gravy Powder is always a hit
Step 3: Mix the Mash
You should now have lovely and tender potatoes. After draining them, let them sit for five minutes. With the help of a potato masher, break up your potatoes. Mash the potatoes until they take on a creamy texture after adding butter, milk, salt, and pepper.
Want ultra-decadent mash? Add more butter and milk.
Step 4: Plate and Eat
Let's put your meal together! Those sausages should be layered over the mash after you've given yourself a nice helping of mash. Over everything, pour gravy and enjoy.